just as promised, im going to pretty much blog about my table!! and some other people's table as well.

introducing...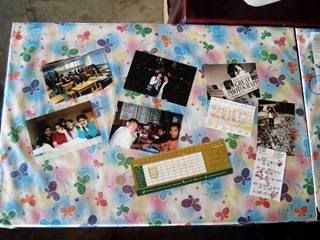 ..MY TABLE! with pictures on it too... hohohoh...

yea yea.. i know the wrapping paper is ugly. i mean, it took me about 1 month to get use with the thing... but once you get use to it, its not soo bad... haha.

well, hmm.. i know you guys are like getting closer to the computer screen just to have a clear look on the pictures, well, dont. since im nice and all, im gonna show you the more CLEAR and NEAR picture of my beloved table. uiseh...
clockwise from top left: taken at Suri Highschool, South Korea, A korean friend and i in the middle of GunPo City, a picture of me (!), my baby cousin, our last dinner in Korea, my friends and i in our hotel room in KL.

now, if you think that my table's messy, take a look at my friend's table.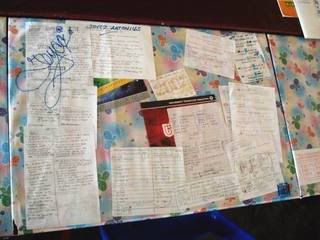 the papers there are actually notes to accounts and business studies. i got the oppurtunity to sit at my friend's place the other day. lets just say that, the notes helped me with my mock exams. :D

hahhaaha..

some of my artistic friends put a few of their works of art on their table as well... here's one good example...
not bad ey?

so thats about it.... haha.

note to all the people in the world: my 'decorations' on my table is damn pretty. i should win an award for it. seriously, i should.
4 mad rant(s):
Got something to say? Please leave a comment! Your feedback and opinions are extremely valuable to us here at RANDTS. You also might want to take a look at the comments that other readers have left.

If you leave a comment, please check back to this post often, as we will get back to you as soon as we can. Thanks for dropping by!